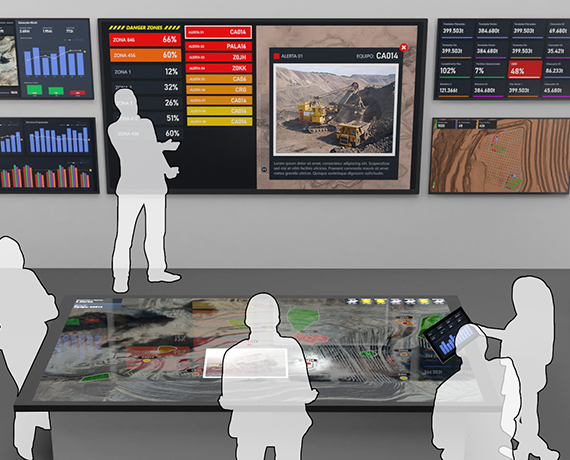 WHAT IS A DIGITAL TWIN?
A digital twin is a digital model of an asset or process built from real-world data received from sensors or network-connected equipment.
A digital twin is used to better understand, predict, and optimise the performance of an equipment or process. In the case of mining, TIMining has built the most advanced digital twin of the mine. Using our Mine Digital Twin, TIMining Aware, we are able to remotely visualise the mine operations from anywhere.
We are also working to deliver simulations for the integrated mine process using advanced analytics, machine Learning and Artificial Intelligence.
Other great applications of digital twins in the mining context include world leaders like ABB, AVEVA, Andritz and Outotec, that have developed digital twins mostly for mineral processing processes and advanced control.
HOW ARE DIGITAL TWINS APPLIED IN THE MINE?
A digital twin can be applied to both specific processes and to the complete system. For example, Orchestra can build a digital twin of the loading and hauling process and create simulations of the process.
On another example, TIMining Aware is a Digital Twin of the mine designed to deliver Visualisation and Situational Awareness.
The Digital Twin collects information from systems like Fleet Management System, Drill rig Navigation System, Processing Plant Control systems and integrates that data to create a mine model.
That mine model is then updated in real time and sent to the visualisation engine, so people can visualise the mine remotely. And in the future, this digital twin will be able to simulate operational scenarios to have a better understanding of the outcomes of our decisions.
See how our mine digital twin can deliver remote visualisation and situational awareness.